Welcome to the mystical and frightful world of Malum Hortus. In this game you will play as nymphs, along your journey you'll meet malevolent flowers, adorable critters and other magical creatures from unknown origins, both friend and foe. Take a look around to determine if you have the bravery it takes to enter Malum Hortus.
To be the first to know when Malum Hortus launches click the 'notify me on launch' button on the Kickstarter page.
1-4 players – cooperative play – 30-60 mins – Ages 14+
Introduction
You wake on the cold and unforgiving ground. Trying not to panic, you take stock; you aren't injured, nevertheless you can't remember where you are or why you chose to sleep here. Was it your choice to sleep here? No, you wouldn't, you know yourself, you would have found shelter and comfort. The last thing you remember is beauty, the sight and scent of such alluring flowers. It seemed like heaven here, so inviting, you never wanted to leave and a chill of dread takes hold of you as you realise that maybe you never will. You remember now, as the sun started to set, you heard roots creaking as they were ripped up from the ground, and those exquisite flowers changed, where once you saw wonder, you instead sew cruel eyes, gnashing teeth and lashing vines.
They have been feeding on your energy, you can feel it, your magic is drained. How will you fight back with such limited magic? You take a deep breath; you know you must pull yourself together if you are going to get out of here. Move during the day, hide away at night and do all you can to break out of this nightmare, to escape Malum Hortus.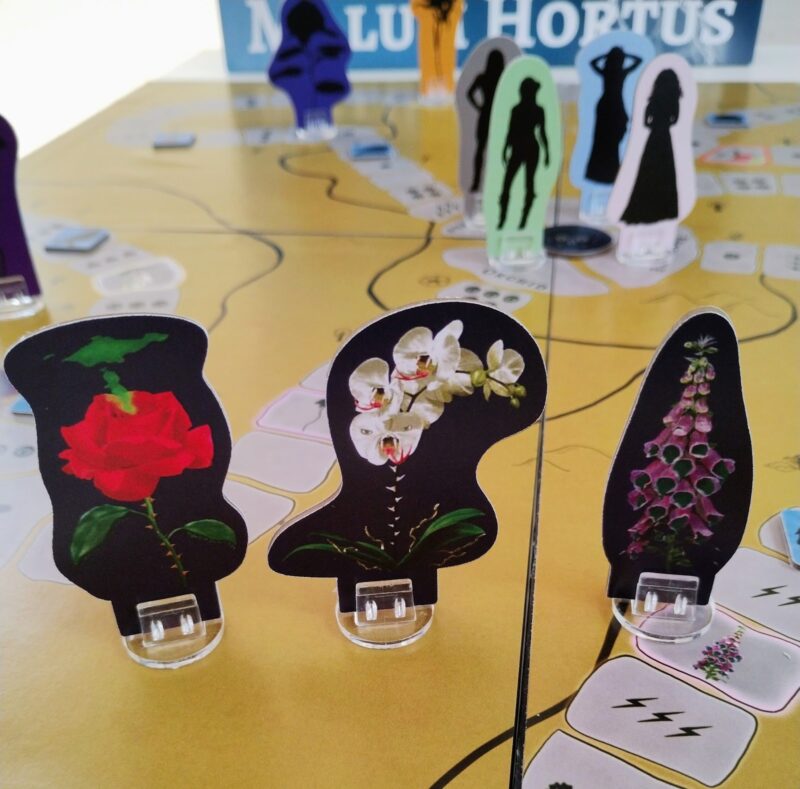 Objective of the Game
Malum Hortus is a cooperative game, all players win or lose together. Players are a party of nymphs who have been lured in to this beautiful garden by day, only to find it turns evil at night and does not want you to leave. Do not let the word 'garden' fool you, this place is a vast woodland with shifting terrain and it will take many days to find your way to freedom.

The main aim of the game is to work together to ensure every nymph leaves the board, escaping Malum Hortus. Along the way there are evil flowers to avoid and critters to save from the garden.

Magical creatures from many different realms find themselves ensnared by and lost in Malum Hortus; through night cards and critter cards you may encounter some of them along your journey, as well as being affected by the enchantments they use to try and flee. Be warned, not all of them are quite as kind natured as your fellow nymphs, it is not just the flowers of Malum Hortus that you need to fear.
The Gameplay

The game ends in one of three ways:
There are no night cards left to draw – you have lost
The party has been corrupted and a nymph loses consciousness – you have lost
All nymphs make it off of the game board and out of the garden before either of the above conditions are met – you win! Total your score!
Points are scored for health and magic remaining, critters saved, night cards remaining and there are minus points if the party has been corrupted by the garden.
Link to full rulebook – coming soon!
Atikin Games
It's very much a one-woman team, with my mostly hand-crafted games and gaming accessories all designed, illustrated, built, published, etc, etc by me.
Malum Hortus was the second game I ever designed but due to the size of the game and intricacy of the art it will actually be my sixth game to be published. This game deserved the extra time and attention given to make it all that it can be which is why I'm very excited to be bringing it to Kickstarter this year.
Game Art

Some of the art is still in progress, these appear in the prototype copies as silhouettes of the final artwork, which will take their places once finished.
An All Female Cast
Meet the Flowers
Removing Plastics and Other Eco Fun
The prototype copies of the game all include plastic dice and standee stands. My plan for the production copies is to use grey board stands instead of plastic. I'm also working on sourcing wooden dice if I can. I hope to have cloth component bags instead of plastic zip lock bags as well.
I would like to fund the planting of trees to offset the carbon emissions if the game is made outside of the UK and shipped here.
Making Games Comfortable to Play
Malum Hortus Lore