Tri To Win now has German rules available to download!
Tri To Win was Atikin Games' first self-published tabletop game. It funded on Kickstarter in February 2020 and is now for sale worldwide.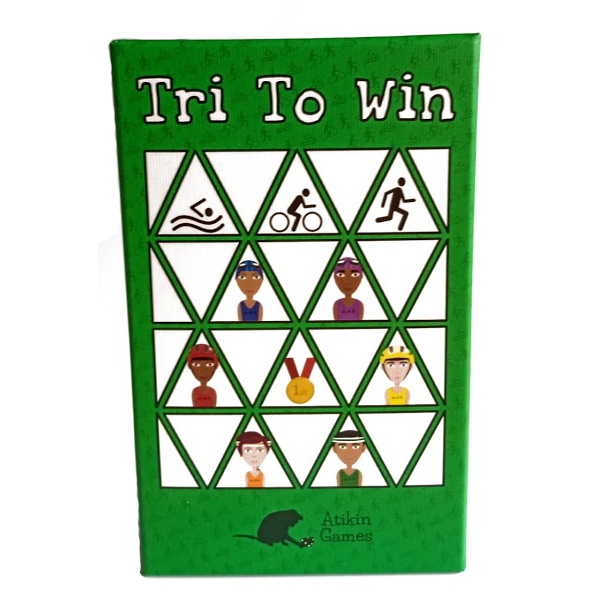 Player Quotes
"Very enjoyable game, we played with 4 non-gamers and they enjoyed it too!! It's the perfect starter game to a night of gaming – simple enough to start with but some strategy to start warming your brain up!"

Steve Cluer
"Perfect game for all the family."

Jay Hutton
"Fantastic gateway game. A game designed perfectly to bring new, young, old together. Family friendly, 5 mins to learn, perfect for groups"

Dan
"A compact and enjoyable game with a surprising amount of mathematical structure underneath. It felt balanced and gently competitive."

Lucy Rycroft-Smith
"Wendy Wheelie FTW!"

Dan
Welcome athletes to race day! At this very special triathlon you will build your skills as well as contribute towards creating the three courses that make up the race. Tri To Win is a card game where players build their own board game. Everyone can see the race course, you're building it as a team. But only you know what skills your athlete has, this means each player is trying to build the course that their own athlete is more likely to win, and leave the others in the dust.
The race course is different every game, your athlete's skills will be different every game, and so your tactics will need to be as well. Can you build the ultimate athlete? Good luck!
Game Instructions
The game is played in two phases. In the first phase of the game players draw and play one card per turn to build up their athletes' skills, create the race courses, and a little bit of card and skill thievery. Skill cards are played face down next to your athlete, only you know what skills you have. All other cards are played face up, the Course cards are played along the corresponding course (as in the image below). And Action cards are used to cause some mischief, with Action cards you can steal skills, cards, remove pieces of the race course and stop other players actions. Phase one ends when a player uses their turn to play the 'Start The Race' card at the end of the running course.
In phase two, players use their accumulated skills to race on the course they made in phase one. The Course cards are used as a board game with coloured player tokens that match each athlete. Add up all skills your athlete has gathered and these are now your movement points. Each player takes turns moving their token the number of swim points they have, then cycling, then running, stopping at each race transition until their next turn. The winner is the first player to make it past the finish line to the Gold 1st place position at the end of the running course. Keep playing to find out who comes 2nd and 3rd! We haven't been able to play a game yet without continuing after we have a winner; we just have to know!
What's in the box?
In the game box you will receive:
90 x playing cards
6 x wooden player tokens, one for each athlete card
A little bit of fun – meet the athletes!
Download the Tri To Win rulebook
English
German
German translation: Oliver Kinne, Make My Game Travel www.makemygametravel.com